About Scruggs Podiatry, P.C.
As many of our readers are aware, we've grown! In order to meet the challenges of new techniques and technologies, Scruggs Podiatry had to make a move to accommodate our growing needs. We believed that the best way to continue to provide a full range of state of the art podiatric services to our patients was to expand our facilities to meet your needs. With this mission in mind we moved into our new office suite at 19 Walker Avenue, Suite 200 in Pikesville! The office provides easier access and more parking while providing the latest in cutting edge techniques and equipment and maintaining the warmth and individual attention that I have prided myself since I started my solo medical practice over 15 years ago.
We look forward to continuing to provide a modern center of excellence to meet the needs of our patients. Our goal, as always, is to apply the art and science of podiatry to provide the utmost care of one of the most important parts of the body: your feet.
Dr. Ditra S. Scruggs, D.P.M.
Podiatrist/Surgeon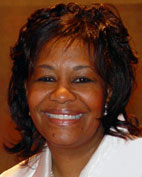 Dr.Scruggs graduated from Lincoln University of with a B.S. in Biology/Pre-Med in 1984. She graduated from the Ohio College of Podiatric Medicine in 1991. After completing her podiatric medical residency at VA of Baltimore she entered private practice in 1993. She regularly attends educational seminars to keep up with the latest trends in podiatry.
She is a member of the American Podiatric Medical Association as well as the Maryland Podiatric Medical Association.